SeasonTwo.EpisodeFour | Dernière ligne droite

We've come to the home stretch; dernière ligne droite. What a season it has been. From the start, this season has been about finding out feet and finding our identity. Naively I thought I could come in and play how I've always played. I've had to adjust my style and I now have a new identity which suits Stade Rennais and the results speak for themselves. You're in for a treat!
February 2021 – May 2021
---
FEBRUARY 2021
Following the rather quiet transfer window, we got back to business in the league. And boy did we get back to business!
A slight tactical tweak (not my last before the end of the season) saw a couple of excellent results against Marseille and Bordeaux. However, the former exacted revenge by knocking us out of the cup in a very tightly contested affair!
The three wins in the league that followed allowed us to open up a 9 point lead over third-placed Lyon and really take the pressure off a little bit in our pursuit of Champions League football.
MARCH 2021
During March I was approached by the board with an offer of a new contract.
It was good to get this out the way with before the summer. I knew there's a lot of building still to be done here. Eduardo Camavinga also pledged his future to the club, signing on for another four years, however, we did have to make him the highest-paid player at the club on €66K p/w but with a €34M valuation now, it means that when we do eventually lose him, we should have the finances to adequately replace him.
Anyway, on to the results.
A couple of narrow wins sandwiched a loss to PSG. Another loss to them after but considering we were 3-0 down after half an hour, I'll take the final score in the end.
Youth Academy graduates
I thought it would be good to introduce some of the young graduates from our youth team each season. I'll pick out the best of the bunch. We were fortunate enough to have three top-class players come through. Zied Ayari, a striker who will be trained to play as an Advanced Forward. Malo Boyer, a Winger who will eventually come into the team to take up the number 7 shirt. And finally, Marvin Hubert, a young Goalkeeper who already looks like he could be a top player.
This slideshow requires JavaScript.
APRIL 2021
April was the month we secured Champions League football for the second season in a row, which will bring some much-needed money into the club. However, I'm keen to ensure it doesn't derail our domestic season this time. Not quite as dramatic as last season, but I'll take it this way every time if I can!
It was also the month I managed my 100th game in charge of Stade Rennais, and it seemed fitting that my player of the season (unless something drastic happens in the final few games) scored this beauty!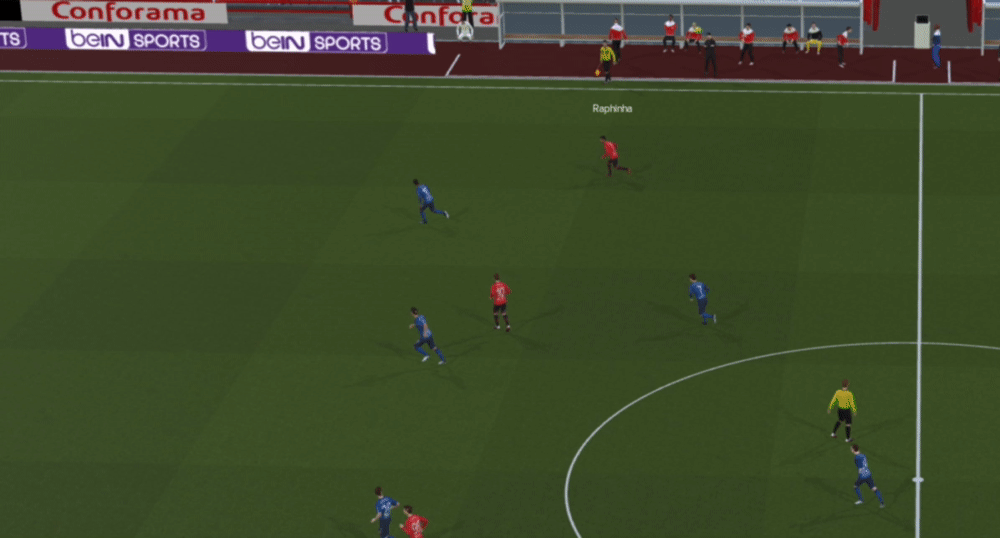 However, after this goal, Raphinha came to my office to drop this bombshell on me.
I told him that as no clubs are actually seriously interested we should not talk about it for now. He went away, but I feel this summer we will have a lot of interest in him, unfortunately. His calculated valuation is just €20M so it'll be quite hard for us to fend off any interest from clubs who are unwilling to pay upwards of the €50M I would want for him.
In terms of results on the pitch, well, they were a little mixed.
Lyon applied some more pressure to our position in the table by beating us, which was followed by a draw at home to Dijon. The two wins that followed, however, secured Champions League football as 4th placed Amiens were left 19 points behind us. However, being that it is Amiens, it means that no matter where we finish, that's probably the manager of the year gone again.
But, it's about the team, not me.
MAY 2021
With Champions League football secured, I experimented with the team a little. Amine Gouiri was back from injury and firing in the goals, and Gilles Schmitt finished the season with 7 goals in 7(4) appearances.
It was another phenomenal season. I think the ease at which we've finished second kinda takes the shine off things a little bit, especially after the dramatic way last season ended.
However, finishing second secures some much-needed finances from Champions League football, and hopefully, this time around we can get a bit of an easier group and make a bit of money from the win and draw bonuses.
(Click here for the full table)
So that's another season down for me here, and despite the dominance of PSG, I'm really enjoying the French league. We've got some great youngsters coming through the ranks and if we can keep hold of them and develop them the future should be very bright!
I'll be going over a season review next before we then take a look at how our transfer activity over the summer went.
Thanks for following along with my save this year!
As always, you can get in touch with me in the comments below, via twitter @fmfutbolmanager, or my slack channel #fmFutbolManager — if you're not a part of the Football Manager Slack community, then you can join here!
Until next time, à tout à l'heure.
Oliver Jensen