SeasonOne.EpisodeFour | Dernière ligne droite

We've come to the home stretch; dernière ligne droite. What a season it has been. From the start, this season has been about finding out feet and finding our identity. Naively I thought I could come in and play how I've always played. I've had to adjust my style and I now have a new identity which suits Stade Rennais and the results speak for themselves. You're in for a treat!
February 2020 – May 2020
---
FEBRUARY 2020
The loss to Avranches and subsequent knock out of Coupe de France at the 11th round knocked our confidence and we went on to win just 1 of our next 5 games, which for us is a poor run, considering how consistent we've been.
Those results took us out of the top 4 and our hopes of Champions League football were fading.
If I'm honest we were lucky to have picked up 5 points as we were dreadful against Saint-Étienne who should have probably beat us quite comfortably. The match against Lyon was reminiscent of so many others where we've thrown away points, and more worryingly not the first time we've let a two-goal lead slip in the final 10 minutes of a match.
We just couldn't catch a break, and things got worse when Brest took all the points in the following game. Things started to look up when we took the points from Bordeaux and Lille and finished the month qualifying for the 2nd knockout round of the Europa League after overturning a 1-0 deficit against Trabzonspor.
MARCH 2020
After 28 minutes I was looking out at the team I had selected, as they were 3-0 down, wondering if this was my mistake or if we were just having an off day. It's not often a team tears us apart like this, and fortunately, after a few tactical adjustments, it didn't get any worse. Back to the tactical drawing board.
I made a few subtle adjustments to the way we were playing, putting the shackles on my full-backs who had been given licence to roam and use the full length of the pitch as and when they saw fit. Giving them a defend duty still permits them to take part in attacks, but doesn't overcommit us. I addition I removed all attack duties from the midfield.
It worked.
What followed were three clean sheets. Angers and Toulouse shouldn't really be causing us too many problems, and we were comfortable in those games, winning 1-0 and 3-0. We also took a 2-0 lead into the second leg of the Europa League 2nd round against Basel. They did beat us 3-2 at their house, but we were comfortably qualified. Our reward, a quarter-final tie against Manchester United.
The victory over Stade Reims saw us jump back into the final Champions League spot and just 2 points off second-placed Marseille in the league.
APRIL 2020
When you've come so far, and you're overachieving it's harder to step back and be proud of your achievements, rather than lament the slip-ups along the way and wonder 'what could have been'.
April was a busy month which started with two draws, a 0-0 against marseille which we really should have won, and then a 2-2 home leg draw against Manchester United in the Europa League. A 93rd-minute equaliser after we threw away a 1-0 lead.
Following a routine 2-0 against  Dijon to put us into third place in the league table and clearly into the Champions League spots, we were then knocked out of the Europa League with a 0-0 draw in the return leg against United.
A loss to Nice before victory over Metz meant we were out of Champions League places in what was a very tightly contested league table.
MAY 2020
After the 2-1 loss to Nantes at the beginning of May, we were overtaken in the league by Monaco who up until this point had been hot on our tails. We had slipped to 4th place in the league with Monaco overtaking following a draw against Toulouse. With two matches left to play it was going to be tight. We had Montpellier at home before a tough away match against PSG while Monaco faced Stade Reims at home and Marseille away.
Let's not forget that we were only 3 points ahead of nice with a worse goal difference and an easier run-in with Brest and Bordeaux to play. It was going to be tight.
The board, along with myself are less enthused by these results. We had a week to prepare for Montpellier. Since we need to win, plenty of attack-minded drills. We start with our normal 4-4-2 and look to hit them fast on the counter, as has become our style of late.
Eduardo Camavinga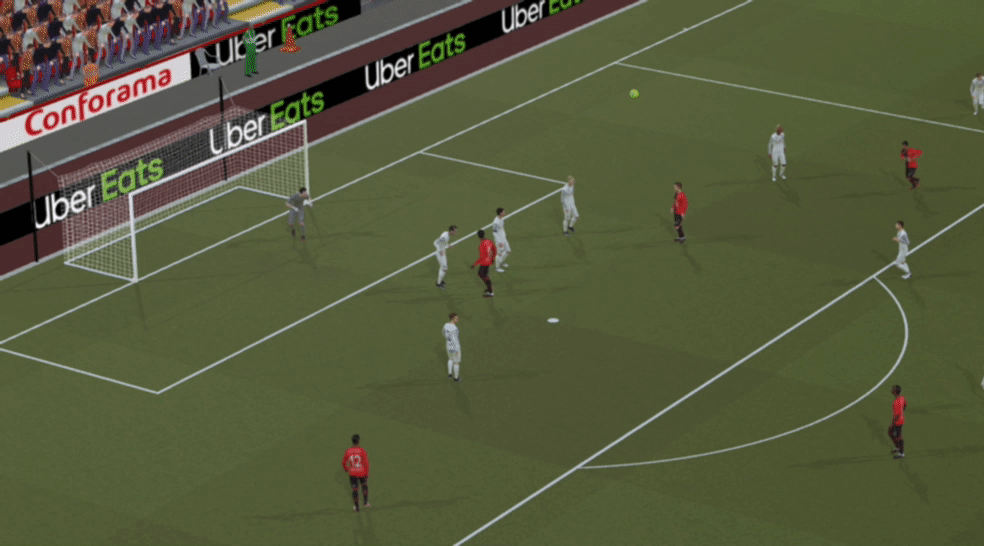 There's not a lot more I can say about this boy. He is a special talent, and one we're really going to struggle to hold on to. 10 minutes in and he gives us the lead. What a goal.
I wasn't going to gif every goal, but when my left-back Doumbria picked the ball up from our corner flag and dribbled with it all the way to the opposition goal and did this, well, there's no way I could have told you about it, because you wouldn't have believed me.
Souleyman Doumbia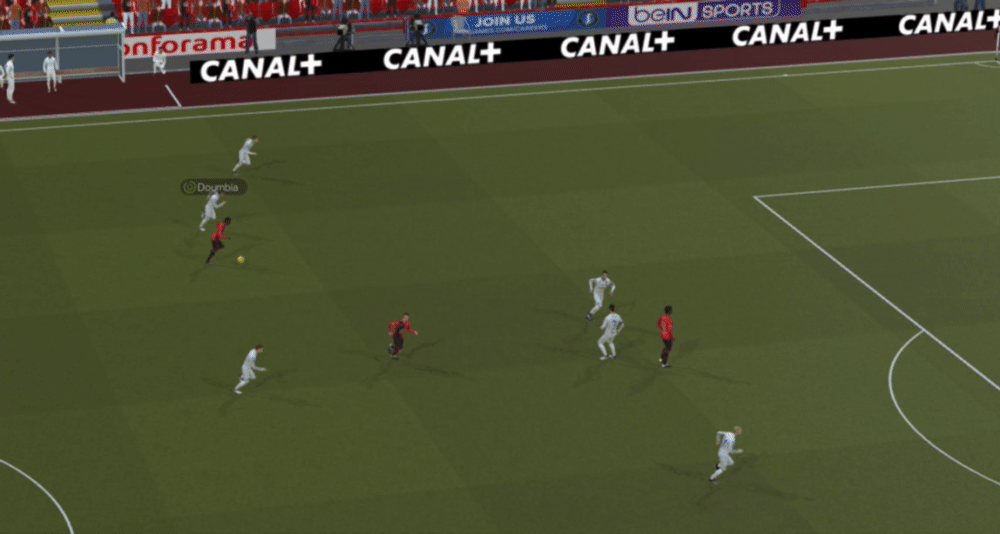 It was 2-0 immediately after the restart. My love for Stade Rennais had begun. And on 71 minutes the game was all but sewn up, Savanier putting the ball into his own net after a wicked free-kick was too much for him to deal with.
The game finished 3-0 and more significantly, it meant that we had qualified for the Europa League. Unfortunately, Monaco beat Stade Reims, so they were still a point ahead of us in the third and final Champions League place. With our next match against PSG, I think, unfortunately, our dreams of Champions League football are over.
It's weird how things are ending, the top four teams all playing each other in the final match. If Marseille get a result against Monaco and help us, should we get something against PSG… Well… Dare to dream…
Starting Lineups
With the title in the bag, Paris Saint-Germain decided to rest Neymar and Mbappe. Thank you. A tiny bit of hope for us. As for me, well I had a full squad available to me and pretty much picked my strongest starting 11.
We were playing with a cautious mentality with a hope to catch PSG on the counter and perhaps pinch a goal.
The first half was a pretty drab affair with neither team really threatening. the opposite goal. However, news broke of a Marseille goal against Monaco, and it had put is into third position and into the Champions League places.
The margins were fine, a PSG or Monaco goal would put is back down into fourth place, so I decided to go for it. I swapped to our more positive system (still a 4-4-2) and see if we might nick a goal.
We huffed…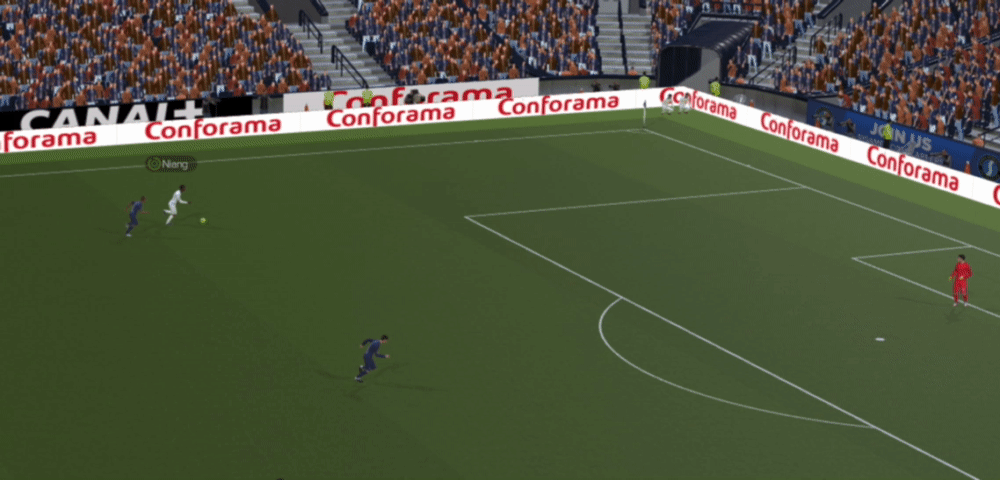 And we puffed…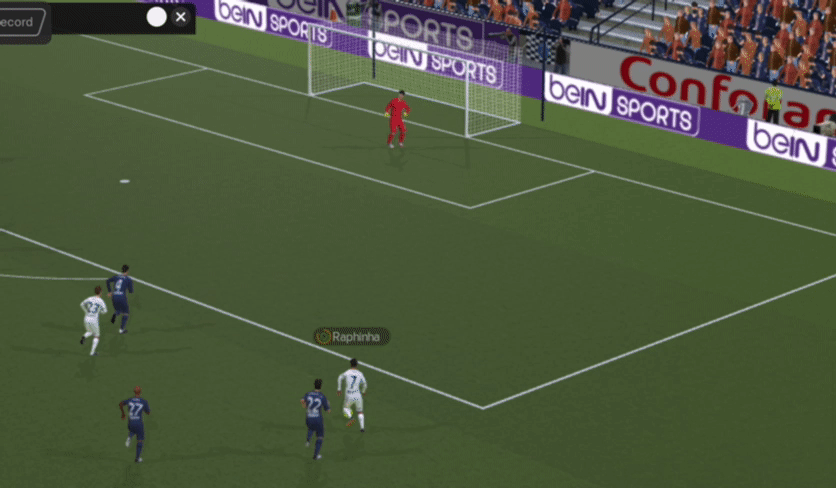 And then we puffed some more…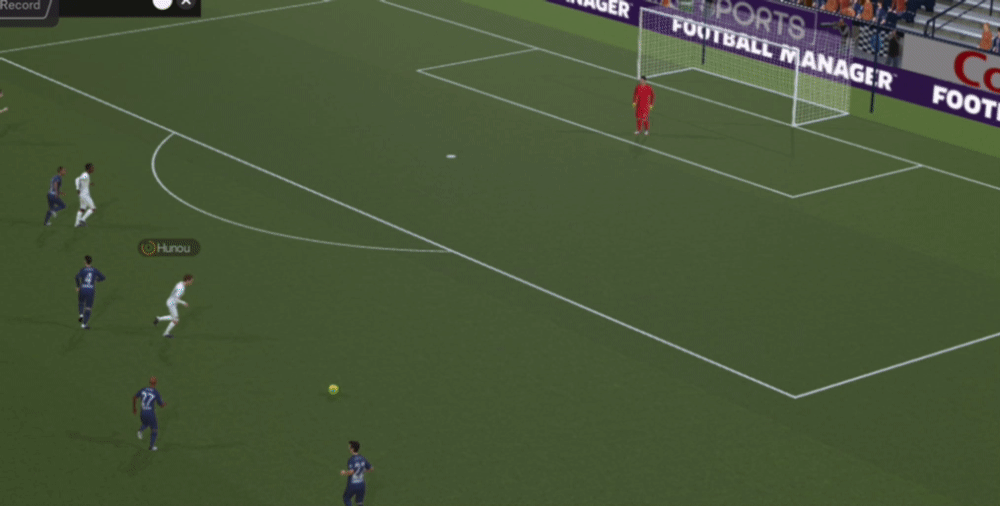 We puffed until we could puff no more…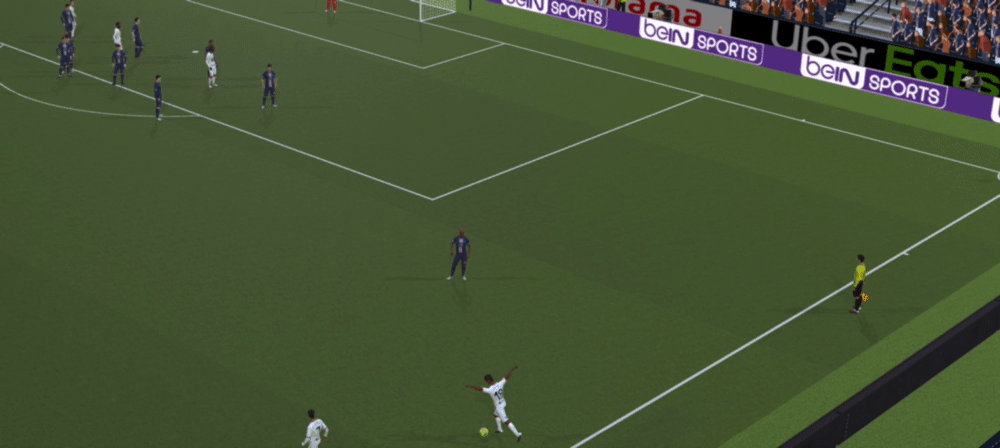 And it was after this miss, on the 80th minute I began to sense that it just wasn't going to be our day. You know that feeling where you do everything right, tactically, but it just doesn't come off for you.
Into the 90th minute and things were still tense. We continued to hammer the PSG goal but nothing was giving way. The match ended, a stalemate, a result the pundits called a low-key affair. It didn't matter to me, Marseille had held on and we–against all odds–had qualified for the Champions League (best placed third qualifying round).
Speechless.
(Click here for the full table)
I'm not really sure how to sum up my feelings right now. We certainly overachieved and I really don't think we're getting anywhere near this position next season. I need to temper expectations and try to keep everybody's feet on the floor, including the boards.
For now, though, I'll enjoy this.
Another post is done, and a season complete. I'll review the season in a separate post to keep the length of this one down to a manageable size! I'll go over the tactics I settled on and any changes I plan to make, we'll look through the finances and will bring back my player awards.
Thanks for following along with my save this year!
As always, you can get in touch with me in the comments below, via twitter @fmfutbolmanager, or my slack channel #fmFutbolManager — if you're not a part of the Football Manager Slack community, then you can join here!
Until next time, à tout à l'heure.
Oliver Jensen