SeasonFive.EpisodeThree | Rückrunde
Welcome to the final instalment of my journey with Borussia Dortmund. Last time out, we completed the first half of season five, we were through to the next round of the Champions League, top of the league and still in the cup! Dare to dream…
As always, you can get in touch with me in the comments below, via twitter @fmfutbolmanager, or my slack channel #fmFutbolManager — if you're not a part of the Football Manager Slack community, then you can join here!
Now, onto the update.
---
It's my final season, irrespective of what happens. It has been a shorter than normal tenure at Dortmund, but I believe I've set up a great club who have the foundations to remain one of the best sides in Europe for years to come.
JANUARY TRANSFER WINDOW
No deals this window. We've had a fantastic season and have plenty of backup from the youth teams. It was time to bring through some of the younger players and they've done themselves proud when called upon. The key was keeping hold of our better players and we've managed to do that.
It'll give the new manager a huge war chest, should he choose to use it.
RÜCKRUNDE 2023 | BUNDESLIGA
The second half of the season was much better than the first. We went unbeaten in the league for the remainder of the campaign, which secured the title for us again. 
On the eve of the Leverkusen match, Mario Götze of all people equalised for Hannover against Werder Bremen for in the 87th minute to win us the title. A poetic end to the chase for the title, which gave us the freedom to batter Leverkusen 7-0
Compared to how we started it was a huge improvement. I won't labour on the results too much, but we really did find out shooting boots after giving the boys a bit more freedom in attack.
Notable victories include the 11-2 aggregate victories over Leverkusen and a very satisfying 4-1 win over Werder Bremen.
League champions yet again.
The final league table looked like this. One notable absentee from the top 7 you'll see…
(click here for the full league table)
RÜCKRUNDE 2023 | DFB-POKAL
Although not a priority anymore, we retained the DFB-Pokal. Our route to the final wasn't as easy, however, with difficult matches against Werder Bremen and Wolfsburg in the final.
RÜCKRUNDE 2023 | CHAMPIONS LEAGUE
The bloody Champions League. The one trophy I've been chasing in my five years at Dortmund. Well, strap in because we're in for a bloody bumpy ride!
In the first knockout round, we struggled against a strong Lazio side, winning by a single goal on aggregate. We were going to need to up our game if we were going to progress through the rounds.
Then we lost 4-0 against Benfica away in the quarter-final. At this point, I'd written off my  Champions League hopes, and confessed to those listening on Slack that it just wasn't meant to be. However, in the second leg, we went into the halftime break 3-0 ahead. We came out in the second half and pushed and pushed but just couldn't get the elusive goal to level, however, on 80 minutes Eckardt scored a wonderful goal to level the tie and take us to extra time!
Sancho quickly made it 5-4 on the night on 92 minutes and to make the viewing a little more pleasurable, he got another on 111 minutes to put us 6-0 up and 6-4 on aggregate. What a performance!
Napoli were as tough as I expected, but they didn't really create much, which set us up for a final against Paris Saint-German, who had a 92% win record this season under Ancelotti. Joy.
The final
Paris Saint Germain at the Puskás Ferenc Stadion.
This was never going to be an easy game. Ancelotti has won 92% of his matches in charge of PSG, winning 49 with just 3 losses and a draw. It's an incredible record.
We will drop from an attacking mentality to balanced, but keep all the player roles as they are. We have enough about us to cause them some problems, so we won't be making too many changes. Importantly, we have a full squad fit.
Onto the match, and we make the better start, Felix going close from long range and the signs are good.
Onto the 18th minute and we go a goal ahead!! Upamecano tapping in from close range after some good play outside the box following a corner!
Paris Saint Germain 0 – 1 Borussia Dortmund
Just before half time, Gravenberch almost comes back to haunt us, but his towering header is just wide of the post. Half time we're in the lead, with PSG failing to register a single shot on target.
PSG had obviously been given a bollocking at half time as they came out the traps flying, but fortunately for us, they just couldn't do it when it mattered.
Pavard made an excellent last-ditch tackle on the hour mark to prevent Chalov levelling the scores.
Chalov again missed on 74 minutes when presented with another fantastic chance… Could luck be on my side for once…
Jota had a great chance to wrap things up on 87 minutes, things were getting a little too tense for me.
On 89 minutes I decided to introduce Matheusinho to the right-wing in replace of Jota, who had himself had an excellent game. The pace and trickery should cause PSG some problems as they push for the win.
I just never expected him to do this…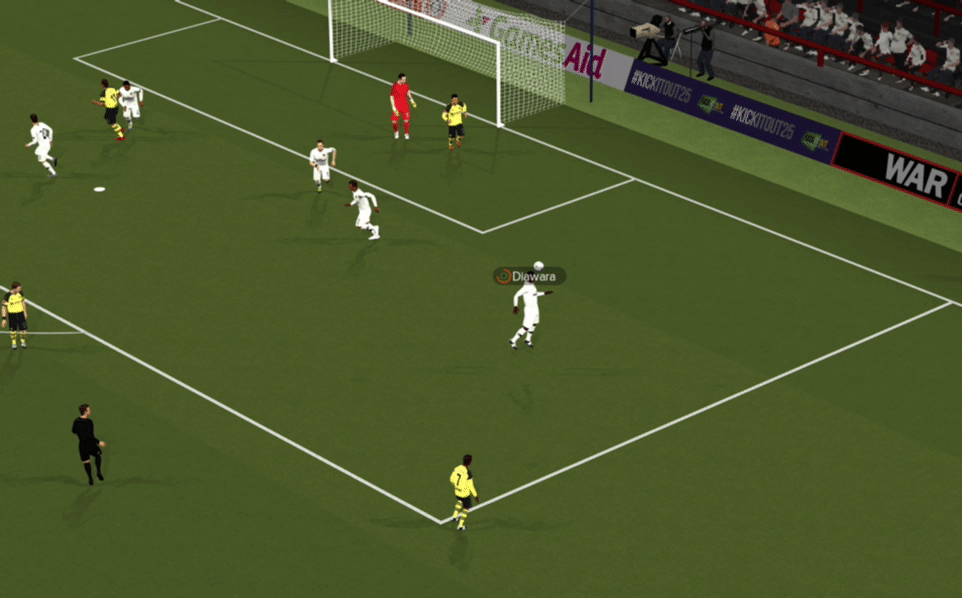 A rabona assist in the Champions League final.
Paris Saint Germain 0 – 2 Borussia Dortmund
And that's it! The treble to wrap up my time with Dortmund.
What a way to end my career at Dortmund. The fans in the stadium and on Slack were incredible on the night!
Season, erledigt (finished)!
PLAYER STATS
To a man, we have been fantastic this season. Even the new boys who came into the side from the academy have stepped up. Eckardt, Pantic, Franco, Gallorini, and Aguinaldo all doing themselves proud and making a real contribution to the team, with Pantic achieving the highest rating of 7.51 due to his 3 assists and 2 goals in the 9 appearances he made.
The Goalkeepers
Ederson has had another injury-free season. He had made 51 appearances for us, keeping 28 clean sheets. His contribution to the cause is often understated, but he's so assured at the back that we can just put him in there knowing he'll do just fine.
The Wing-Backs
I said last season that I wanted more from my wingbacks this term, and they've increased their assists from 13 to 19. While it is an increase I wanted a little more from them.
Losing Mbabu last term to PSG was a big blow. However, the guys who have stepped in and done a good job. New boy Aguinaldo has exceeded expectations in his games and I expect him to be a big player in years to come.
The Central Defenders
I rotated my central two quite a lot this season. My primary paring of Upamecano and Pavard put in solid performances each time they stood in front of Ederson.
Milenkovic refused to sign a new deal and joins AC Milan at the end of this season. It'll be a blow, and a position the new manager will need to cover.
The Central Midfielders
So last season I struggled to pair my midfielders in roles that would suit, but the trio of a halfback behind a mezzala and central midfielder on attack really worked well, and the numbers speak for themselves.
Felix and Milinkovic-Savic have upped their games from last season, chipping in with 28 goals between them. Weigl, when fit has been excellent in the halfback role, but Gallorini and Cáseres have also been brilliant.
The Wingers
The key part of my system. Matheusinho has spent too much of this season on the treatment table, which is a shame because he's pretty solid statistically. However, the introduction of Jota to the team eased the burden, and his ability to play either side really helped out when we needed to cover Sancho when injured.
New boys Pantic and Franco have done well when called upon, with the former chipping in with 0.95 chances created per 90 minutes.
The Strikers
Alcáce, despite being out the team for much of the season still contributed 21 goals this season. His understudy, Eckardt also did himself proud when called upon and made a valuable contribution, including scoring the decisive goal in the Champions League final!
Now onto the much-awaited awards!
Oliver Jensen's golden spoon award
Awarded to my stand out player of the season.
When I signed Jota, it was more to be cover for the flanks when needed. However, he turned out to be an integral part of my plans.
With 19 assists and 16 goals, he was by far one of the most important players in my team, just pipping Sancho to this award!
Oliver Jensen's wooden spoon award
Awarded to my stand out player, for all the wrong reasons.

This was even harder than last season. To a man, we've been excellent, so I've had to pick this award for other reasons. Matheusinho has been injured for most of the season, which has been really irritating as he's one of my most creative players. Despite his rabona assist in the Champions League final of all games, he gets the award this time.
Oliver Jensen's silver spoon award
Awarded to the best youth player (under 23) to break into the squad, either new signing or from the youth teams.
Despite starting just 6 games, and only making a substitute appearance in 3 more, he still managed 2 goals and 3 assists.
Statistically, he's one of the top for key passes and I'm sure it won't be long before Europe's elite come calling for him. It'll be a shame, but that's what happens when you have potentially world-class players outperforming.
Fans player of the season
Sergej Milinkovic-Savic (20%
Young player of the season
All in all, a fantastic end to my time at Dortmund.
I leave the club with just under €250m in the bank, a crop of fantastic youth products, and a Champions League winning side.
I will sim ahead 10 years to see how the AI does with my team. I hope it isn't torn apart and returned to chasing Bayern each season. Thanks for reading through this series, and thanks for all the feedback and comments. It has been a brilliant save!
Until next time, tschüss.
Oliver Jensen