SeasonThree.EpisodeThree | Rückrunde
Welcome to the latest instalment of my journey with Borussia Dortmund. Last time out, we completed the first half of season three, we were through to the next round of the Champions League and sitting top of the league, can it continue?.
As always, you can get in touch with me in the comments below, via twitter @fmfutbolmanager, or my slack channel #fmFutbolManager — if you're not a part of the Football Manager Slack community, then you can join here!
Now, onto the update.
---
I didn't want to do too much business over January. We were sitting top of the league and playing well, but a couple of injuries to midfielders and I was playing left Wing-Back Guerreiro in central midfield. So I might have signed another player to offer more cover, and we might have signed a few youth players.
JANUARY TRANSFER WINDOW
This save was always about developing youth and growing players to be superstars. However, we've had to spend some money in order to also compete with Bayern. This January shows that we're leading more towards youth for the future.
This time last year, we were spending €2.5M p/w on wages compared with €4.2M of Bayern. Both clubs have increased their wage spending.
We've spent €65M this transfer window. My scouts have been busy and had identified a number of highly rated youth players from around the globe. Our general focus for scouting is based entirely on young players.
I don't expect all of these deals to work out, but we should be able to spin a profit on those that might not.
TRANSFER BUSINESS | IN
Fortunately, we managed to fend off Liverpool (for Ederson), Man United (for de Ligt), Spurs (for Mbabu), Chelsea (for Sancho), and Leverkusen (for Milenkovic). As such, we only have incoming transfers to talk about.
IN | Mehmet Ali Yayla | €16M from Fenerbahce
I don't really need any other strikers at the club. We play with just one Poacher and have Isak and Arp behind Alcácer. However, my scouts were so excited by him that we've taken a punt on him. We might just develop and sell, or he could push the others for a first-team place.
He is already very well developed and suited to the Poacher role, which helps.
IN | Mateus Terra Santiago | €5.25M from Gremio
My scouts were impressed by his great pace and overall top speed, which is key for my system as we counter-attack. Relatively cheap, considering his potential ability and with Guerreiro attracting a lot of interest, we needed to plan for the future.
IN | Maid Pantic | €9.25M from Werder Bremen
We have made a few domestic youth signings, to try and keep up the numbers of German players in our squad. Pantic already looks incredible for his age. We will be looking to develop him over the coming years, and he's already rated to be better than Sancho.
IN | Ryan Gravenberch | €22M from Ajax
This was one deal I could afford to lose. We'd tried to sign Ryan in the summer, but his agent rejected our contract. However, we managed to resurrect the deal this January, despite interest from Juventus. I expect Ryan to give us a few good years before he inevitably moves on.
RÜCKRUNDE RESULTS
After the shocking end to the year, where we won just one Bundesliga game in December, we needed a bit of a morale booster and a few tactical tweaks. It worked.
JANUARY 2021
There's not much to say about the friendlies. They were routine victories and expected. What wasn't expected was the 12 goals scored in the following four league games.
To be honest, we should have beaten these team anyway. Despite the red card for Diallo in the Hannover match, the 78K supporters witnessed a masterclass from Alcácer as he bagged a brace in the 4-0 victory. Mainz have always been one of those teams that have given us a hard match, and they made us sweat until the 90th minute when it was 2-1 for the remaining 15. However, we hung on and Reus made sure of it.
The final two matches saw another two goals for Alcácer and more goals. We were flying high. A perfect month.
FEBRUARY 2021
It took until the 92nd minute for us to get ahead against Duisburg in the DFB-Pokal to defeat them 1-0. A weakened side struggled to break down our stubborn opposition. The win streak continued against Hoffenheim, a nice 3-1 victory was the perfect warm-up for the Madrid Champions League match.
So, the Madrid match. If you've scrolled down you'll have seen the score already. I still don't know how it happened. After Lincoln found the net in the opening 10 minutes, but Madrid were level eight minutes later when Bernardo Silva got one back.
Then, de Jong, Alcácer and Sancho scored three more in 10 minutes to make it 4-1 and we were flying. Madrid got another back before half time to make it 4-2. Rather than sit back on the lead, I decided to keep pushing, and it paid off. Sancho bagged another on 48 minutes and then slotted home a 72nd-minute penalty to make is 6-2 and effectively seal our path to the next round.
The goals kept on flowing, Stuttgart (4-0), Freiburg (5-1), Frankfurt (5-1) and then Leverkusen in the DFB Pokal (7-2) were all destroyed by our fast, free-flowing attacking football. It was wonderful to see.
MARCH 2021
We sealed the deal beating Real Madrid 1-0 at home to take the overall score to 7-2, something I'll never forget. However, it cost us in the next match against Bayern. We were shattered, but we really didn't deserve to lose this. Bayern took the lead in the sixth minute through Lewandowski, who always seems to score against us. Gravenberch got one back on 73 but on 75 it was 2-1 to Bayern through Forsberg. We got a dramatic equaliser on 93 minutes, but before I could shout at the lads to not do anything stupid, this happened on 95 minutes.
https://i.gyazo.com/a580697be245a5f173d571351d0a0f8a.gif
Apparently, that was enough for a penalty to be given, and Lewandowski scored it. We should have drawn, but Bayern had just gained three points on us and suddenly things weren't as clear cut as I thought they would be.
We returned to winning ways against Bielefield, with a 4-0 victory, with Gravenberch scoring yet again. Some player he is going to be!
APRIL 2021
The league wasn't shaping up to be as dramatic as previous seasons, in-fact with just five games to go the media did their best to suggest the title race was going to the wire, but barring an absolute cock-up that even I would be proud of, I think it's in the bag.
With Bayern and Werder Bremen drawing 1-1 it was an opportunity for us to put ourselves 10 clear with just four games to go.
Of course, we lost. It wouldn't be an Oliver Jensen side if we didn't make things so damn difficult for ourselves. We were ahead and cruising through a Gravenberch goal, but two shots on target and two goals for Volland and Leverkusen, the winner coming on 89 minutes. A kick in the teeth, and another late goal we've conceded.
After the down, we had an up, a wonderful 4-0 victory against title challengers Werder Bremen, the confidence was high, we were through to the final of the DFB-Pokal against Bayern Munich.
Then we decided to give Bayern a helping had to the league title we had one hand on already.
They say winning breeds confidence, well in our case it breeds incompetence, especially at the business end of the season. We did the same last season and we were on course to do it again this season. We absolutely battered Augsburg. Battered them like no team we've bettered so far this season, but absolutely nothing would go in. They had a lucky shot on 26 minutes, their only shot of the game. We had two goals disallowed, we missed chance after chance after chance. It was a disgusting defeat. Embarrassing. To make matters worse, Bayern had beaten Leverkusen 1-0 and the lead was now just four points.
I was angry. Furious. And we had Liverpool in a couple of days.
We were sluggish in the Champions League fixture just three days later and were behind after just 46 seconds. We shifted from a balanced approach to attacking and managed to get back into it through the ever-present Lincoln.
Sancho came on with 15 to go and got the winner just five minutes later. A great away victory, but a lot of work to do still as we were very much under the cosh for most of the game.
A perfect end to a very indifferent month.
MAY 2021
Having Schalke sandwiched between the Liverpool games was not ideal. Firstly because we'd lost our previous two league fixtures and desperately needed the win, and secondly because I would have liked to have rested a few players, but playing against our fierce rivals does not afford us that luxury.
We very nearly threw the game away. We went a goal up through Lincoln on 41 minutes and at half time the message was clear! We needed to step it up, the performance was just not good enough.
The message didn't reach the players as it was level on the hour, albeit through a direct free-kick. Lincoln, however, got us the winner on 80 minutes. Another late winner, surely our luck must run out soon.
The win put us seven points ahead of Bayern, with two to play. They had a game in hand that they needed to win otherwise it was all over.
Maybe it was the pressure, maybe Simeone just made a few mistakes with his selection. It didn't matter to me! We had retained die Bundesliga!
Time to bust this out again!
With Manchester United beating Manchester City 1-0 on aggregate in the other semi-final, we already knew who we would potentially face, should we get through against Liverpool. I didn't fancy my chances against Mourinho, but first, we had Zidane.
So, the game started great. Two minutes in and we were a goal up, 3 – 1 on aggregate. Then I got FM'd.
First, a free-kick goal. 1 – 1 (3 – 2)
Then a corner goal. 1 – 2 (3 – 3)
Then, Witsel decided to tackle his own teammate, to give Liverpool possession. Which they scored from. 1 – 3 (3 – 4)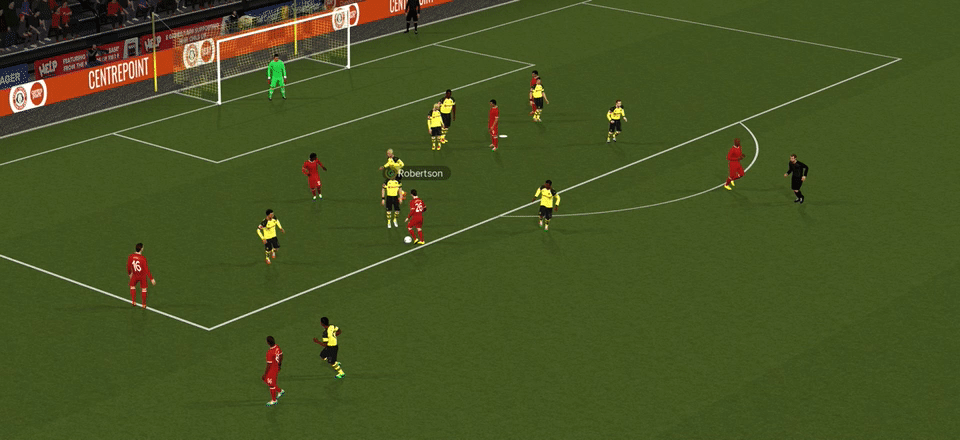 They scored again. Obviously. To make it 1 – 4 on the night 3 – 5 on aggregate. Another embarrassing show once again from this lot. Pathetic.
A damp squib ending to what should be a bloody fantastic season. We'd won the Bundesliga but all I could think about is how many laps of the Strobelallee Training Centre I was going to make this lot do.
I dropped the entire 11 who started against Liverpool. There was a chance none of them would see the first team again this season. Werder Bremen and Hamburg our final two games before a DFB-Pokal match against Bayern Munich.
Against Werder, we were a bit better, but it took two corner goals from defender Milenkovic to secure a 2-1 victory. We had changed nothing tactically, but all of a sudden look like an average team.
We then limped to a 1-1 draw against Hamburg and somehow had to overcome Bayern with our form taking a complete nosedive.
It was an opportunity to win the league with the highest win total under Dortmund's history. But it wasn't to be. A +66 goal difference and to finish seven points ahead of Bayern is still a fantastic achievement.
Ahead of the DFB-Pokal final, we were struggling. Champions or not, we need to step up. The final league table looked like this.
(click here for the full league table)
DFB-Pokal final. Olympiastadion Berlin. Borussia Dortmund vs Bayern Munich
Both teams had a near full strength squad to pick from. Bayern were without Timo Werner. We were missing Mbabu. I dropped Alcácer to the bench for Isak.
I opted for a balanced mentality to start with.
The opening 10 minutes of the game saw six shots. We had the majority of them. Lincoln had a great chance after just 16 seconds.
But when you have players Bayern have, you know it only takes one chance to score. Frederico Chiesa. Bayern's €116M signing doing the business yet again.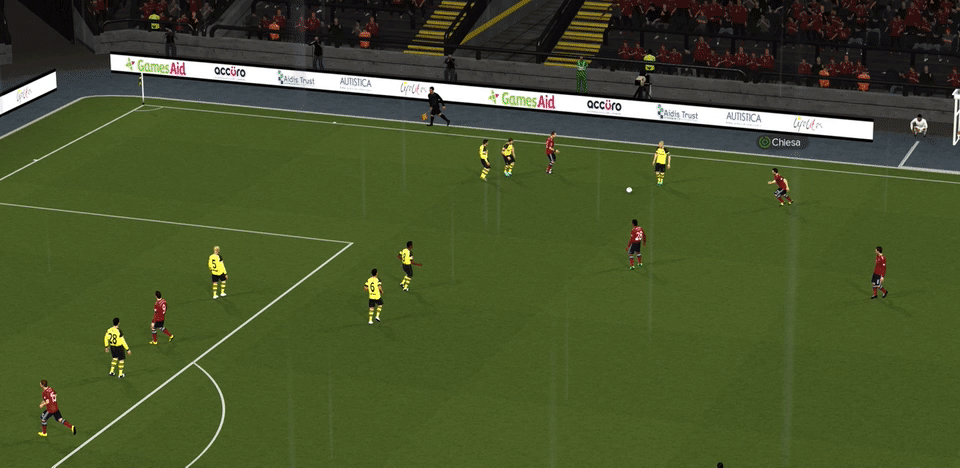 We deserved to be leading and yet, out of nowhere, we were a goal down.
Despite having 63% of the ball, we were 2-0 down on the half-hour mark. Two shots on target, two goals. This was abysmal.
Eight minutes later, Gómez had a great chance to pull one back, but like eight of the other nine shots we had, it missed the target.
On 41 minutes I had to do something. Reus had a 6.10 rating and had done nothing all game. I hauled him off for Sancho who wasn't fully fit, but we needed a spark.
At half-time, there was nothing I could do but bollock the players and kick them back out.
Second Half
It seemed to have little effect. Bayern came out the traps flying and could have secured victory, with Chiesa missing the target from a slight angle.
What is going on!?
We switched to a more attacking mentality and instructed the team to run more at Bayern. It was stick or twist for us.
On 75 minutes, we got a goal back through Lincoln. Sancho hitting a low cross for him to slot home.
We were very nearly 3-1 down when Müller found space in the box, but Ederson got the better of him.
Despite all the huffing and puffing, we wouldn't find a way through. Another defeat. We'd gone from ripping teams to pieces to losing four of our final nine games.
I need to do some thinking over the summer to try to get this team firing again. We need to start creating better chances or next season will be a real struggle. On the face of it, a league win and DFB-Pokal final appearance should probably be classed as a good season.
As for the other Dortmund teams, the Under 19s celebrated another German U19 Division 1 West league win, however, they were defeated 3-0 by Bayern Munich in the final of the German Youth Championship.
Dortmund II improved massively on their 11th place last season in 3 Liga with a title win.
Oh, and I was named Manager of the Year. Not that it matters…
And that's a wrap.
TEAM STATS
| | | | |
| --- | --- | --- | --- |
| Dortmund Stats | Figure | Position | Change |
| Goals | 95 | 1st | up 23% from 77 |
| Pass completion ratio | 79% | 13th | up 1% from 78% |
| Chances created | 79 | 1st | up 11% from 71 |
| Shots on target ratio | 47% | 1st | up 15% from 41% |
| Average possession | 45% | 14th | down 8% from 49% |
| Tackles won ratio | 85% | 8th | down 1% from 86% |
| Fouls made | 338 (10 per game) | 17th | down 9% from 373 |
We've had another tremendous season and that is backed up statistically. Despite the end of season lull, it's very easy to see why we were clear winners. We saw a 23% increase in the number of goals scored in the league, having managed 77 last season. This was aided by an 11% increase in the number of chances created.
We managed more shots on target, too.
PLAYER STATS
It's very easy to see why nearly all of my players are wanted. It has been an excellent season, with just a couple of players failing to get above a 7.0 rating.
The Goalkeepers
It was the area we wanted to strengthen last summer, and Ederson has done a good enough job I think.
He has 17 clean sheets over 49 matches. He has, however, conceded 51 goals, which is not the best for a club in our position. I will be working over the summer to make us better defensively, to see if we can improve on the number of changes we're giving away.
Rajkovic has played just four games for us, but he kept three clean sheets. Statistically excellent, but his matches were against teams we expected to dominate.
The Wing-Backs
A key part of the way we play is getting the wing-backs up the pitch and supporting attacks.
Passlack and Mbabu are the two highest rated players in terms of performances. With Guerreiro and Mendy not too far off themselves. Between them, they have 39 assists. Mbabu himself has 2.26 key passes p/90 which is an extraordinary number for a player in his position.
I don't think there's much more I can get out of these players, so tactically, I won't be doing much with them.
The Central Defenders
We're spoilt for choice when it comes to central defenders. Having five very good options has meant that sometimes the players have been a little unhappy with total game time.
Wantaway Milenkovic has 7 goals this season, all from corners. At 6'5″ he is hard for most defenders to pick up when heading the ball.
Milenkovic also have a 96% tackle success rate, higher than any of the other defenders. While he doesn't have much room for development, according to my coaching staff, he is certainly outperforming my other central defenders.
Unfortunately, he wants away and has a €19.75M release clause. I'll be trying my hardest to convince him to stay.
The Central Midfielders
Another position where we are spoilt for choice is central midfield. Götze has been excellent with 6 assists, which considering he has only made 11 (13) appearances from an unfamiliar position is quite something.
Weigl has been playing deeper as a defensive midfielder, keeping things ticking over with 90% pass completion and a 93% tackle success rate.
Witsel won Player of the Year and Players' Player of the Year for his average 7.58 rating over the season. Probably inflated due to the penalties he scored, but at 32 years old, it's good to see him still putting in these types of performances.
I still haven't found the right balance in midfield, and it's the one area I want to address in the summer. If I can get these three positions purring, then we're in for an excellent ride!
The Wingers
I feel blessed to have the calibre of player I do on the wings. With Sancho and Lincoln my two starters having the likes of Mboula and Reus as backup.
New player Lincoln has had an incredible season with 19 goals from the wing. Cutting in and getting on the end of crosses, he also sets up an awful lot as shown my being joint top in the assist tables.
Sancho has been out a bit with injury, but has still managed 11 goals and 7 assists from 21 (9) appearances. Reus, however, has outperformed him on the left wing with 14 goals and 8 assists from almost the same number of games, 23 (12).
The Strikers
Alcácer is my main striker, he has 27 goals from 33 (8) appearances this season which is an excellent return and huge improvement from last seasons 13 in 31 (3). We're creating more chances for him, and he has taken most of the chances.
Isak has had another good season with 10 in 12 (7), and hopefully, I will be able to give him more game time next season.
Now onto the much-awaited awards!
Oliver Jensen's golden spoon award
Awarded to my stand out player of the season.
Despite scoring 27 goals this season, Alcácer wasn't my stand out player. That award goes to Lincoln. At just 20 years of age, he has taken to his new position (Winger – Attack) like a duck to water. He has 19 goals and 12 assists from 36 (5) appearances. He has been a revelation on the right, and if his development continues at this pace, he's going to be one of the world's best.
Oliver Jensen's wooden spoon award
Awarded to my stand out player, for all the wrong reasons.

This was a tough one, as only three players had an average rating below 7.0 and everyone has contributed to the fantastic season we've had. I could give it to Schürrle, but he only made 4 (4) appearances. Ederson is a keeper, and they seldom score an average above 7.0 especially considering he doesn't have much to do. So, Jacob Bruun Larsen, you are my winner. I had such high hopes after his first season for me, but he really hasn't done as well this season as I expected.
Oliver Jensen's silver spoon award
Awarded to the best youth player (under 23) to break into the squad, either new signing or from the youth teams.
Given Lincoln won my overall best player, I couldn't give this award to him. However, there is another stand out candidate. Felix Passlack. The young right-back is second in the average ratings to only one player, right back Kevin Mbabu (which probably tells you about the importance of that position).
Felix is a great young player and has had a terrific season. He could be our right-back for the next 10 years! 24 (7) appearances, 1 goal and 11 assists.
Fans player of the season
Young player of the season
All in all, another great season. A Champions League semi-final, a DFB-Pokal final and league champions.
FINANCIAL RESULTS
Our shareholders are very happy this year. A €21M payment was handed out following an estimated €572M turnover. As is the tax man, who pocketed €15.7M.
Due to our continued good form on the pitch, we are seeing better work off it. According to this little nugget of information, clubs in the Bundesliga made a collecting loss of €521M with us sitting at the bottom with €44.22M down the drain. It's less than last seasons €48M though. I just wish I knew what this meant, because at the time of writing we have over €200M in the bank.
We did, however, turn a profit in our transfer dealings, coming up €9.2M compared with Bayern, who improved on their €169M net spend the previous season.
The wages to turnover ratios for the league paint a similar picture. We spend 39% on wages, €132M p/a. Still respectable, given the number of contract renewals recently.
Income Analysis
We've increased our income across almost every category. This was helped by more home games due to our progression in all competitions resulting in more prize, TV and matchday income.
Our player sales are always going to be relatively high, due to the statur of the club, but I'd like to rely less on this going forwards if we can. However, we do have a strong line of youth players coming through the ranks, so it might not be the worst thing if a few of the first team players made way for them. That is the aim afterall.
A 17% increase in our income is a great achievement and one we will want to build on next season. In order to do that we will have to perform as well as we have this season.
Almost all areas have improved.
Heading into my fourth season, I'm very happy with the income the club is able to generate as it enables us to be competitive in the market when we need to make new aquisitions.
Expenditure Analysis
As expected, our expenditure is also up this season, but not by much. Player wages are up 25%, but that has enabled us to tie down our big game players for seasons to come. And where players are lost, we should get more for them as a result.
I'm not expecting to spend as much on transfer fees this summer, if I can keep hold of the core group of players. There are a few squad players who I will be looking to move on, but I want to keep the core here for another season at least.
As per the previous season, things on the financial front are very healthy indeed.
PLANS FOR NEXT SEASON
We have to try to defend our title. That has to be the key objective. If we can do that then everything else is secondary.
I know I'll probably lose my shit again if we get dumped out of the Champions League and lose another cup final, but I need to keep things into perspective. We're fighting against teams with much more financial muscle than us.
Another key objective for me is to bring through some more youth players and give them games. Whether that is in the cups, or getting half an hour in games we're winning. If any fringe players leave they will be replaced by the youth prospects, not new signings.
Until next time, tschüss.
Oliver Jensen