SeasonThree.EpisodeTwo | Hinrunde
Welcome to the latest instalment of my journey with Borussia Dortmund. Last time out, we reviewed the preseason results, and took you through the player signings at Signal Iduna Park.
As always, you can get in touch with me in the comments below, via twitter @fmfutbolmanager, or my slack channel #fmFutbolManager — if you're not a part of the Football Manager Slack community, then you can join here!
Now, onto the update.
---
After the preseason we had, I thought we would be fit and raring to go. How little did I know.
AUGUST 2020
Yet again, we lost to Bayern in the DFL-Supercup. We should just consider not turning up to this and hand them the trophy every season. It was my seventh match against Bayern and the seventh game I'd failed to beat them. We've drawn twice, drawn twice more but lost on penalties, and lost the other three. Despite a late equaliser, we couldn't finish the job.
The opening DFB-Pokal game was more of an exhibition match, a nice 8-0 victory to boost morale and a bit of stat padding for Alcácer. After the victory over Duisburg we then stumbled against Hannover, despite taking a two-goal lead. Their equaliser an 86th minute penalty.
Two league games and three goals conceded.
Not the worst starts, but could have been better.
SEPTEMBER 2020
By the time mid September came around we had shipped six goals in four games. The ever trust-worthy 4-2-3-1 with a €61M edition, Ederson, was showing cracks. We had to do something about that. A win against Mainz (3-1) and draw against Napoli (2-2) making me rethink my approach.
I swapped us to a 4-3-3 to give us more defensive cover when my wing-backs push forward. Having two men at the back was making it a little easier for the opposition to break through. Moreover, when we were defending, we didn't really have much of a shield to goal. A lot of the assists were coming through the middle so I wanted someone there to protect the back and also be a catalyst for attacks.
Using Weigl as a Half-Back has given us some great defensive cover. He is excellent for the role. He has great anticipation, positioning, teamwork and workmate. He also has the traits I like in a defensive midfielder: comes deep to get the ball, dictates tempo, likes to switch the ball to the other flank. He is my central player to kick-start our attacks.
Additionally, I began the process of converting Advanced Forward Lincoln into a Winger. After speaking with James, we saw that he has excellent acceleration, pace, agility, balance, technique and off the ball. He will make an outstanding winger.
The results turned around immediately. Keeping with our attacking philosophy we comfortably beat Hertha Berlin, Cologne, Hoffenheim and Valencia. All without conceding a goal.
To make the results better, Lincoln was at the heart of most of the attacks down the right hand side.
OCTOBER 2020
We kicked off October just as we had finished September. A comfortable 3-0 victory against Stuttgart and we were flying high at the top of the league. That all came crashing down against Freiburg, as if we needed reminding that our overconfidence could bite us in the ass at any second. A 2-1 loss showing us that we still had to work hard to compete at this level.
We picked back up against Besiktas (2-0) and Frankfurt (3-0) and we got our season back on track. Leading both the Bundesliga and our Champions League group.
We had a scare against RB Leipzig, managing to just squeeze past them, with Paco Alcácer getting ahead of the defence to nod home the winner from a Lincoln cross. Another assist for the Brazilian and another goal for Alcácer. These two were forming a formidable partnership.
Then the big one! We finally got a victory over Bayern Munich. My first in eight attempts. And it was no less than we deserved, although the stats suggest a draw was probably a fairer result. But I didn't care. We'd waited ages for a result like this and I'm pleased we finally got it.
A great way to end the month.
NOVEMBER 2020
By the time November came around we were flying. Having learned the lessons of the Freiburg loss, we went on to have an almost perfect month.
Besiktas were defeated again, another 2-0 victory. We followed that up with a comprehensive 3-0 victory over Bielefeld. RB Leipzig who were now languishing down at the foot of the table hardly put up a fight against us, another comfortable win with Mezzala Luís getting a brace. Beating Napoli in the Champions League sealed out path through to the next round with a game to spare.
The final match was a close fought game, and one that we probably deserved to lose. Leverkusen took the lead through Havertz, before we made it 2-1 with goals from Milenkovic (did I mention he decided to stay after no one offered him a deal?) and Lincoln again. Paulinho got it back to level terms on 70 minutes, but Julian Weigl from the Half-Back role scored a screamer on 89 minutes to win the game.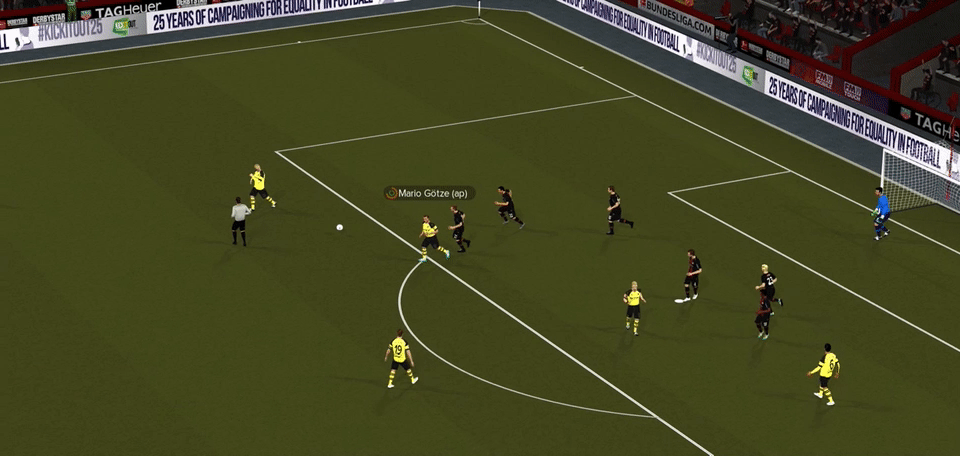 I was magnanimous after the game to admit that the win was lucky. I don't think that meant much to Heiko Herrlich, though.
It's all going too well. The tactical shift has made us really hard to beat.
DECEMBER 2020
One of my favourite months. It's a chance to see how you're doing in the league and what's happening in the Champions League.
Well, the goals started to leak in again. I don't know if this is just to the heavy rotation, or teams just learning to play against our high line, but five conceded in the first three games of the month was not good. Admittedly, three of those were against Valencia who we beat (5-3) to finish comfortably out in front in the Champions League group stage.
The prize, a First Knockout Round match against Real Madrid.
Before that, though, we defeated a well organised Augsburg (3-1) before stumbling against Schalke. We really should have beaten them. We fell behind on 21 minutes and it took until the 76 minute for Reus to score an equaliser. Despite having 15 shots on their goal, and them mustering just the one shot on target, we couldn't collect the three points and the match ended 1-1.
It wasn't the end of the world, Bayern had lost the ability to win a game so we were comfortably out in front by this point. Their league form since November reads DWWLDD. If they keep that up, then second place is the best they will do, and even that wouldn't be guaranteed with just five points separating them and seventh placed Freiburg.
The league for us, however, didn't go much better than Bayern. We drew with Werder Bremen 2-2 despite taking a two goal lead, and that was followed by a 1-0 defeat against Hamburg.
I made a slight tweak to the system for the 6-0 drubbing of Duisburg, but I'll need to wait and see if it has any beneficial long term effects, given that the last match against them we scored four so didn't expect much of a challenge.
The league is finely poised, with all the top teams dropping points everywhere. It's going to be a fascinating second half of the season. We're also just +5 away from equalling last seasons goal difference.
(Click here for the full league table)
We now head off for the winter break, with a couple of friendlies to keep the legs moving before we return to kick off the second half of the season against Hannover.
THE PLAYER STATS
As you can see from the sea of green average ratings, we've had some absolutely storming performances this season. As a result, we also have a wall of Wnt against my players, with 12 on the shopping list for various clubs. This window is going to be a tough one.
Alcácer has finally found his shooting boots, netting 16 in 16(6) games. We've also seen Isak do the business whenever he's been called upon.
We're in the process of converting Lincoln to a right winger, and he's flourished, with six goals and six assists in 19(2) matches.
The midfielders are also chipping in with goals en route to 49 league goals in the opening 18 fixtures.
Ederson had been phenomenal, with 13 clean sheets, but we've had a bit of a wobble recently defensively, so his 21 conceded in 27 doesn't look as good as it almost did.
Overall the team is playing excellently in the new 4-3-3 system. We need to pick up strong when we return to make sure we stay ahead, as I expect Bayern to spend more money in January. As it stands I don't expect to dip into the €100M I have available to me, but if we start losing players I might have to.
Until next time, tschüss.
Oliver Jensen