SeasonTwo.EpisodeTwo | Hinrunde
Welcome to the latest instalment of my journey with Borussia Dortmund. Last time out, we reviewed the preseason results, and took you through the player signings at Signal Iduna Park.
As always, you can get in touch with me in the comments below, via twitter @fmfutbolmanager, or my slack channel #fmFutbolManager — if you're not a part of the Football Manager Slack community, then you can join here!
Now, onto the update.
---
Hinrunde, the first half of the German football season.
Taking over the reins at Borussia Dortmund with just four games to go in the Bundesliga first half doesn't give me much to write about. It has been a good start, but I'm under no illusions that there's still so much work to do.
AUGUST 2019
We had three games in August, and they were all what I would call big games. We had the DFL-Supercup final against Bayern, the first round of the DFB-Pokal that we really didn't want to slip up and exit from, and finally the opening game of the season against RB Leipzig.
The Supercup was one of those games where you feel that everything is going right for you and you deserve to win. However, despite dominating in terms of changes and possession, we lost on penalties. I felt really hard done by as we were much better than Bayern, we just couldn't find the net to make our dominance count.
The Pokal was routine in the end and I'm pleased to have navigated that one without much trouble. More importantly, however, we started the league with an excellent 2-1 victory over Leipzig. Our new attacking system is creating a lot of great chances for us.
SEPTEMBER 2019
A mixed bag followed. We were superb against Hannover, scoring some cracking goals. Pavard also netting on his debut. However, we then gave up a winning position to fall behind to Mainz. We were outplayed and perhaps complacency crept in.
After defeating Valencia in our opening Champions League match, we then faced Bayern again. Despite taking an early lead through Witsel, they came back to defeat us, with Lewandowski scoring in the 91st minute to seal it for Bayern. A killer blow in another match we dominated.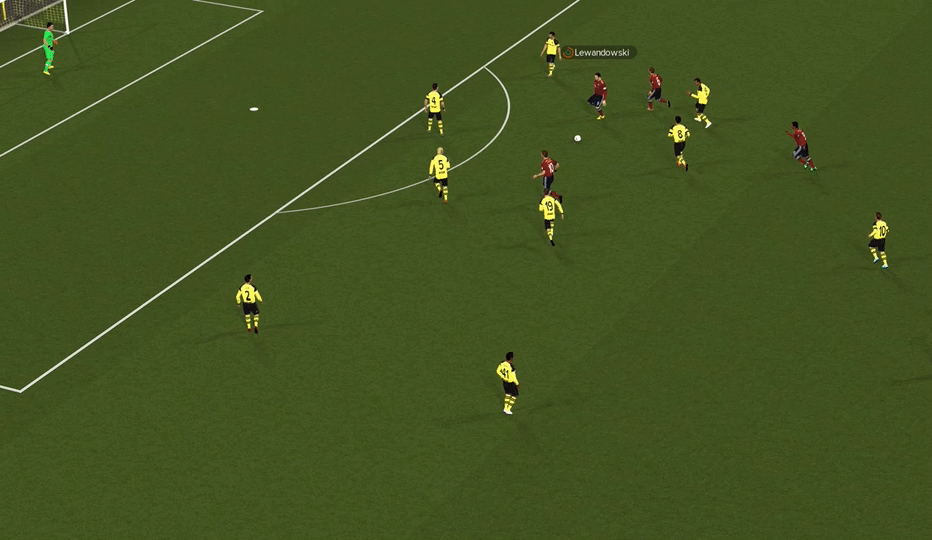 We hammered Darmstat to keep our push in the league going, but then it fell apart against against Hoffenheim, where we struggled to a 1-1 draw
OCTOBER 2019
By October things were going very well indeed. We were in a good position in the Champions League, with an opening win and the other two teams drawing, and in the Bundesliga we were performing well.
We started the month, however, with a 3-0 loss at Chelsea to put a real spanner into the works. I thought we had setup well for the match, but Chelsea finished every chance they were presented with. On reflection we deserved more than we got. We had 9 attempts on target to their 7 but with gifting them three clear cut chances, we deserved to walk away without the points. A wake up call for me.
In the league things couldn't be better as we defeated Cologne (2-1) and Frankfurt (1-0) ahead of a crucial Champions League match against Juventus. And things wouldn't have gone better as we brushed them aside, winning by two goals to nil. Pavard scoring his fourth goal of the season, too.
That victory put us second in the table, with our fate in our own hands.
We had two more games to see out, a 3-2 victory in the league over Augsburg was harder than it should have been, and a limp 1-0 victory over Paderborn in the cup. We're going to need to perform better in the coming weeks.
NOVEMBER 2019
November was the month I realised that we are still so far from maturity and having the right squad and mentality to challenge for the league or European honours.
We started so well with a 4-1 victory over Freiburg after a couple of tactical tweaks. However, we then went on to lose 3-1 to Juventus in a pivotal Champions League match. I thought things were back on track after defeating Wolfsburg (3-0), Borussia MGB (2-0) and Valencia (3-2) having at one point thrown away a two goal lead.
However, in a key match against Leverkusen, after Bayern dropped points, we were destroyed. Three belters from range gave them a 3-0 victory. For all our huffing and puffing, the ball just wouldn't go in. We registered nine shots on target to the three Leverkusen had. It was a bad day at the office for Bürki and Alcácer as everything at our goal went in, and nothing at the other end did.
We are still three points off Bayern, and level with Werder Bremen on 28 in the league. Chelsea have already qualified from Group G in the Champions League on 11 points. We're still maintaining second place on nine ahead of Juventus on seven.
We need to beat Chelsea at home in our final game to secure a place in the next round or it's the Europa League for us.
December needs to be kind to us. We have key fixtures against Chelsea, our rivals Schalke and second placed Werder Bremen. Some big fixtures.
DECEMBER 2019
On the face of it, we had a terrific December. We had some seriously tough games to navigate, all in a short space of time.
Defeating your rivals Schalke is always a bonus and the 3-2 victory was made all the sweeter by virtue of a 91st minute winner by Axel Witsel who is proving to be a key player in my side.
A routine 2-0 victory against Hamburg followed, which was all the more impressive as it was predominately my second string as we had a massive game against Chelsea that followed, where a draw would be enough to take us through to the next round.
vs. Chelsea
We were fantastic and dreadful in equal measures. Okay, maybe more fantastic, but it could have been a lot worse. We raced into the lead with a lovely goal by Pulisic on 9 minutes. Witsel missed a penalty on 12 minutes, Kepa making a great save! Frankie de Jong made it 2-0 on 33 minutes, however, with a lovely low drive from outside the area, Pulisic turning provider this time.
At half time I told the lads to keep doing what they were doing, but it appears some of them were still in the dressing room when the whistle for the second half sounded, as Icardi immediately got one back for Chelsea on 46 minutes.
It was a nervy second half, until the 67th minute, when Florentino Luís got on the end of a Mario Götze free-kick to restore our two goal advantage.
Chelsea, however, fought back immediately. Willian given a free header on 69 minutes to make the score 3-2 now. With Valencia equalising in the other game, we were still top of the group.
We managed to hold on for the victory, with Juventus also drawing against Valencia.
We were somehow top of the group, which is a fantastic result given the teams we were drawn against. This puts us in a good position in the draw for the first knockout round. I cannot wait to see how far we can go.
It was back to the league just three days later. Fortunately, we were at home to Hertha Berlin, so no travel hangover, and our performance showed that. Marco Reus scored a fantastic hat trick to secure a 4-0 victory to keep the pressure on Bayern.
We didn't have the best of games against Werder Bremen, who are the current surprise package in the league. I underestimated them, fielding a weaker team with one eye on the RB Leipzig match that was taking place just three days after. We drew 1-1 against Bremen, a result we deserved really. Frenkie de Jong getting the equaliser on 86 minutes.
The final game of the month was one I was more prepared for. RB Leipzig play with an annoying 5-4-1 system when away from home. The danger man for Nagelsmann, other than Werner, is inverted winger Bruma. He has 7 goals and 5 assists. I dropped Weigl to play as a defensive central midfielder on the right side, to help cover that area of the pitch and used Pulisic as a winger, rather than inside forward to try exploit the gaps left by the attacking Bruma.
It worked perfectly, we came away with an excellent 2-0 victory to keep the pressure on Bayern and to go into the winter break on a high.
(Click here for the full league table)
We come back from the winter break with a match against Hannover, and I cannot wait to get stuck into them!
THE PLAYER STATS
We've had some phenomenal performances over the last couple of months.
Firstly, de Ligt and Pavard at the back, when playing together have been very strong. They both have a 100% tackle success rate in the Bundesliga, the former also has a 100% rate in the Champions League. The latter also has three goals and two assists.
With them both playing so well, it has been hard to give Milenkovic game time, and with his €19,750,000 release clause, we might lose him if he doesn't get on with the job and work hard to force his way into the team.
Witsel and Reus have contributed to the goal counts, with six goals each. Witsel is on penalty duty, scoring two out of the three he has taken.
Paco Alcácer has been a bargain at €13M, scoring 12 goals in 23 matches as a Poacher.
Finally, I mentioned that I wanted more from Mario Götze at the end of last season and he has certainly stepped up to the challenge. He has made 2.08 key passes per game he has played, win 100% of tackles as the first line press. He has an 85% pass completion rate, which is awesome for someone who is told to take more risks with the ball. His 8 assists are the highest in the team.
Overall, it has been an excellent first half of the season. The second half is going to be a tough balancing act to give all the players game time. But we have a lot of football to play, so everyone will need to play their part.
Until next time, tschüss.
Oliver Jensen